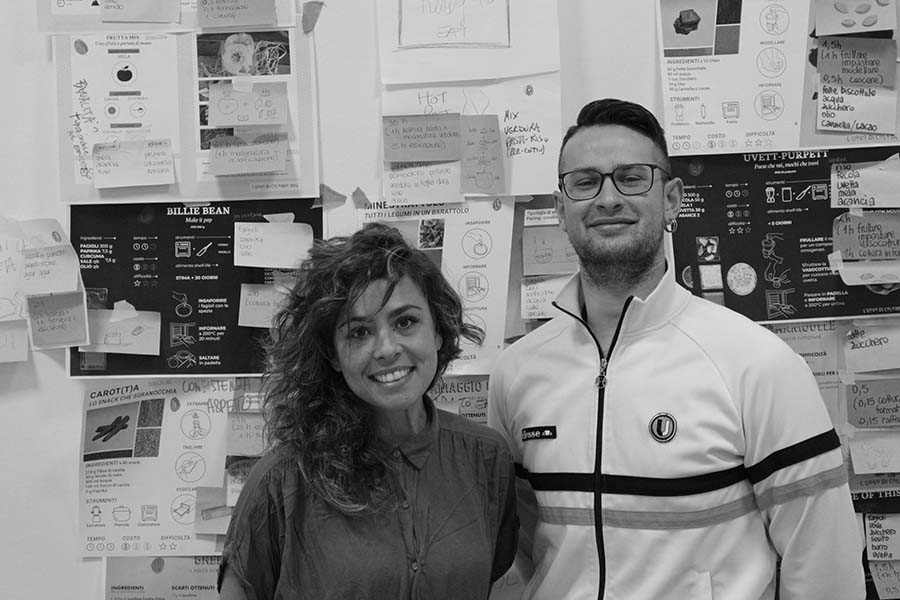 POLITO Food Design Lab:
Raffaele Passaro
Sara Ceraolo
Turin, Italy
Student Group
Raffaele Passaro is a PhD student at Politecnico di Torino. His research focuses on projects aiming to promote social cohesion and sustainable development models; specifically he has been working in these fields: Food chains in social marginality contexts, Sustainable development of the territory, DIY Furniture using appropriate technology. Since 2017 he is a co-coordinator of the Polito Food Design Lab and he collaborates at Fighting Food Waste Design Focus project, curated by Prof. Tamborrini and Prof. Campagnaro.
Sara Ceraolo is a designer and sociologist. She is fellow researcher and lecturer at the Department of Architecture and Design of Politecnico di Torino. Her research focuses on participatory design, social inclusion, and socially responsible design processes aiming at tackling food waste. Since 2016 she is coordinator of the Polito Food Design Lab and Fighting Food Waste Design Focus project, curated by Prof. Tamborrini and Prof. Campagnaro.
《Food Action: A socially design strategy to provide meals to homeless people by the usage of food waste.》
Category | Public service design and design thinking in public policy
Group | Student
The project Food Action consists in a responsible design strategy with the aim of responding to an urgent social issue: to provide healthy meals for the homeless population hosted in the night shelters of the city of Turin. Inside the shelters, dinner is not regularly provided. When some food is offered to the homeless people, it presents problems in terms of nutritional values, taste, portions, quality and possibility to adapt it to personal need of the users such as dietary restriction, religions, allergies.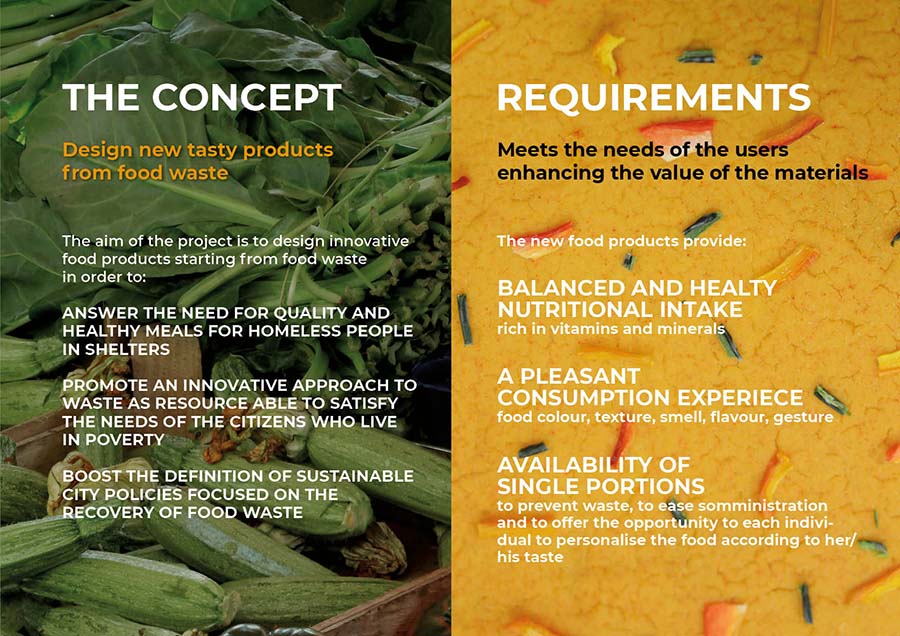 Every day the food retailers of the city of Torino (farmer markets, supermarkets, superstores, food hub…) produce an enormous amount of food waste. In most cases, vegetable and fruits become waste not because they are rotten, but because the customers refuse to buy produce that doesn't look "perfect".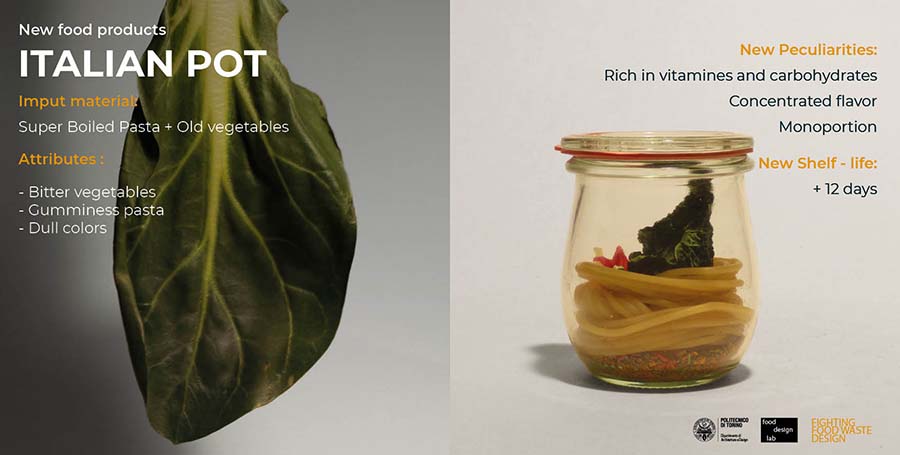 Starting from this food waste, the project develops new edible products transforming vegetable and fruits that, otherwise, would end up in trash. Design method enables to approach fresh food waste a valuable resource that can meet the needs of the users according to a sustainable and systemic perspective "output- input".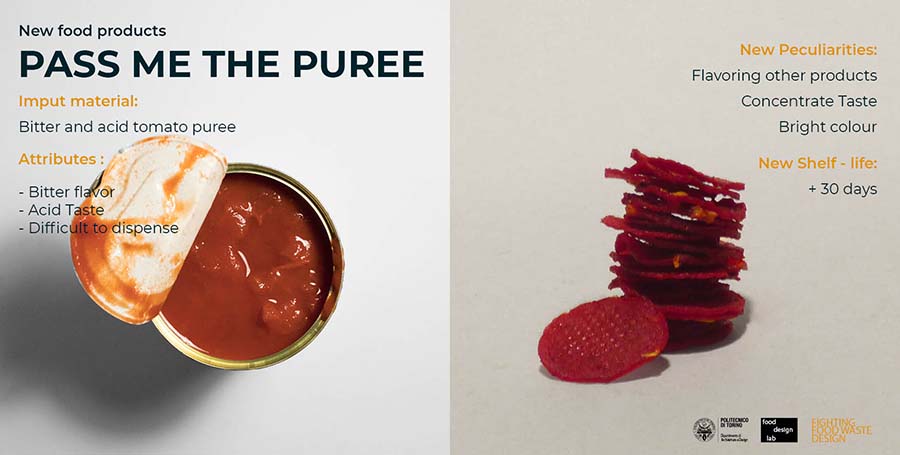 Food Action promotes a new approach to food waste: matching Design's strategic vision and creative process with the knowledge and the techniques offered by Gastronomy, the project develops innovative food products that can be offered as healthy and delicious meals to the homeless people hosted in Turin's night shelters.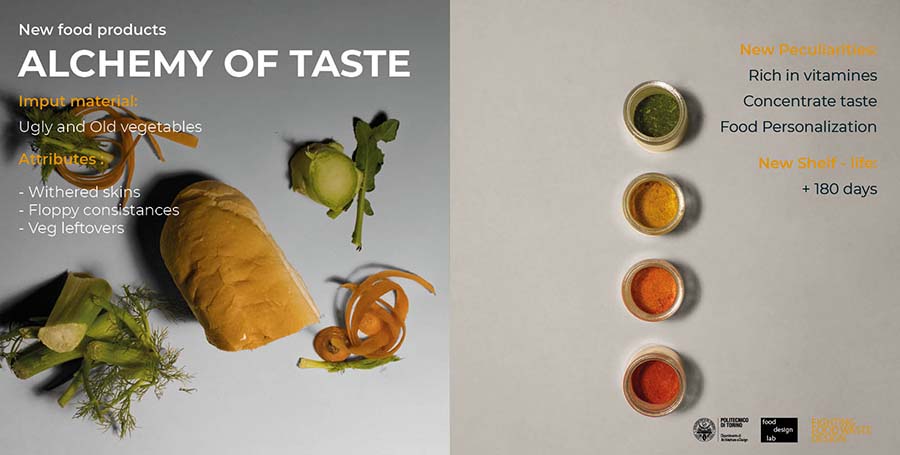 These products take in account the importance of nutritional values (vitamins,minerals and fibres are preserved), of the consumption experience (taste, smell, textures and gestures are specifically designed in order to provide a pleasant and satisfactory eating experience), and they offer the user the opportunity to customize every single portion according to her/his preferences and dietary needs.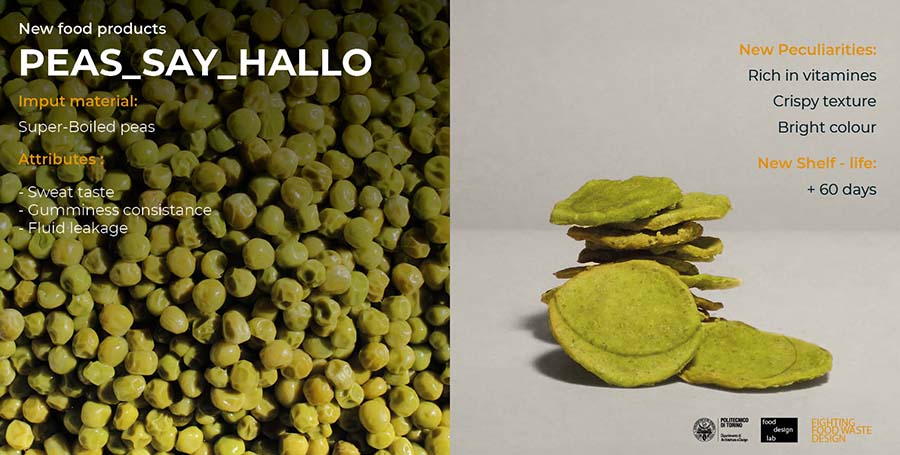 Moreover, the new products respond to the needs for tasty-but-healthy snacks to be eaten during the day and they guarantee a long shelf life that prevent the risk of expiration of the food. Food Action is a project developed by Polito Food Design Lab, the applied-research laboratory of socially responsible food design of Politecnico di Torino. Food Action is also part of Fighting Food Waste Design focus, an project of design education empowerment and food products innovation.