"WHEN YOU TAKE A BREATH, YOU TOUCH A PART OF THE PLANET, WITH THE INSIDE OF YOUR BODY."

——Tor Norretranders, Author
AIR IS FOOD!

AIR – this critical resource and number 1 source of nourishment takes center stage in breathe, Austria contribution to Expo 2015.

The vast expanses of the earth are united by air, climate, and atmosphere. These qualities provide nourishment and serve as information carrier, energy producer, and resource. Breathe.austria, the Austrian pavilion at Expo 2015, thus sets out to thematically probe the natural and technical competency of Austria – as well as future exploitative issues in dealing with the globally vital nourishment of air and climate. Highly relevant in times of challenging environmental issues like global warming, breathe.austria unites architecture and the environment to create an integral contribution.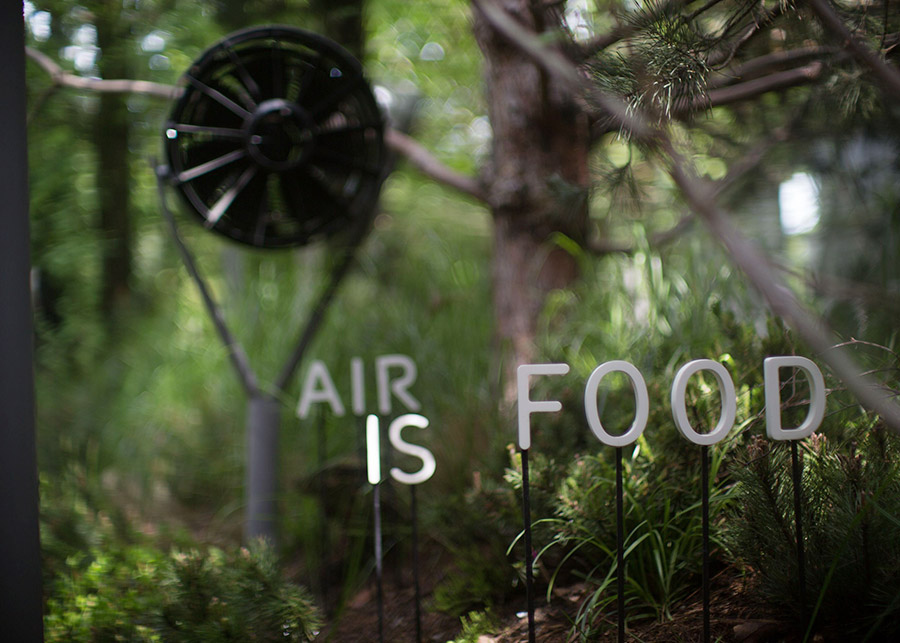 Air is a "food" - information carriers, energy producer and resource at the same time. Food is directly linked with climatic conditions. Through its local climatic condition in the form of climate and weather air is one of the most important foundations for global food production. We all need clean air to breathe, without we can't survive no longer than a few minutes. The technological progress of recent decades has brought with it drastic environmental problems. In the age of Anthropocene - the era in which men has become one of the most important factors influencing the biological,
geological and atmospheric processes on Earth, air is an essential good to protect and promote the development of green technologies.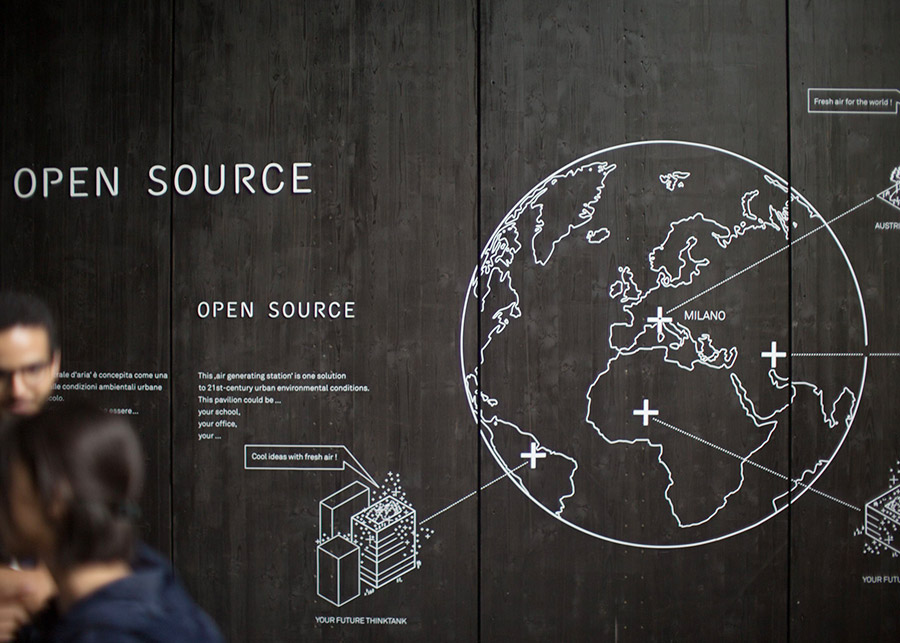 1.A CLIMATE-ACTIVE PROTOTYPE

Planting a grove of trees to create 560 m2 of forest, breathe.austria takes an exemplary approach – multifaceted and sensory in equal measure – to focusing on our relationship with the environment and climate. Breathe.austria's entire floor area is densely planted with 11 Austrian forest ecotypes, ranging from mosses and shrubs to towering, 12-metre trees. This vegetation of the tree grove features an overall leaf surface area or evaporation surface of approximately 43,200 m2 and thus generating enough fresh air each hour for meeting the needs of 1,800 visitors – essentially making it a photosynthesis collector that contributes to global oxygen production. This architectural prototype currently enfolds an oasis of cool and fresh climate in the middle of the Expo in Milan, that in the future could be applied in architectural and urban schemes world wide.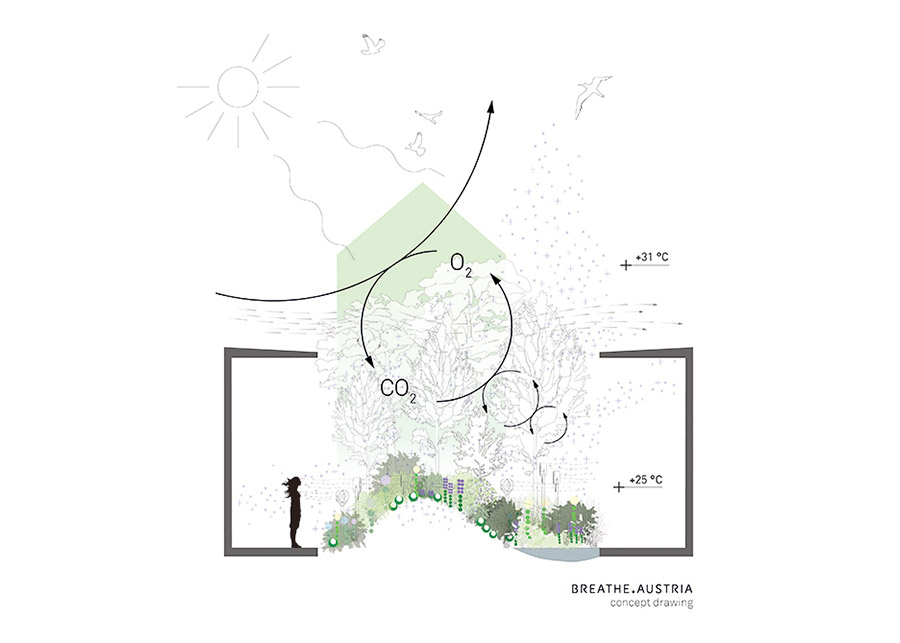 2.ARCHITECTURE

The Wooden Frame

Fundamental for experiencing the atmosphere and microclimate of the vegetation is the wooden framework surrounding the climate active forest vegetation in the heart of the pavilion. This frame creates the physical boundaries for a unique microclimate to unfold. Without traditional air conditioning machines the performance and interplay of all components – plants, architecture, technology - pavilion itself cools down.